Where Low Overhead = Low Cost!
For over 25 + years, International Motorcars llc has been serving our clients and community. We offer carefully selected fine automobiles, inspected and chosen for their excellence and value. Our knowledge, experience and due diligence, has provided our customers with confidence and peace of mind.
We appreciate that you have a choice where you do business. Thank you for our opportunity to serve you!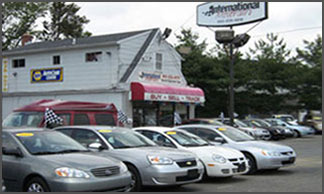 International Motorcars llc - Used car dealer in Berlin, CT
Welcome to International Motorcars llc. We are a full service Connecticut used car dealer located in Berlin serving the towns of New Britain CT, Newington CT, Cromwell CT, Portland CT, Middletwon CT, Meriden CT, Wethersfield CT, Hartford CT, Bristol CT, Cheshire CT, Wolcott CT, Hampton CT and Prospect CT. We take pride in the quality used inventory that we carry that include Audi, BMW, Chevrolet, Dodge, EV INT, EV International Technolgiesevo, Ford, GMC, Nissan and Ram. The cars, SUVs, minivans, trucks and pickups we carry are inspected and often may be eligible for the many extended service contracts & warranties we offer. More»
Our finance department has relations with most banks and lending institutions in CT and will help you get a car loan at affordable payments. We provide sub-prime financing too and in most cases your credit history may not be a problem as you might think! At International Motorcars llc, we believe you can get financed with good, bad or no credit history at all.